Elon Musk becomes richest man on the planet, overtakes Jeff Bezos
The Entrepreneur behind Tesla Inc. and SpaceX, Elon Musk is currently the richest man on the planet.
Elon Musk overtook Amazon.com Inc. founder and CEO, Jeff Bezos after Tesla Inc share price went up by 4.8% on Thursday.
Jeff Bezos, had before now been the 'richest man on the planet' since October 2017.
EDITOR'S PICKS:
Elon Musk reacted to the news in signature style, replying to a Twitter user sharing the news with the remark "how strange".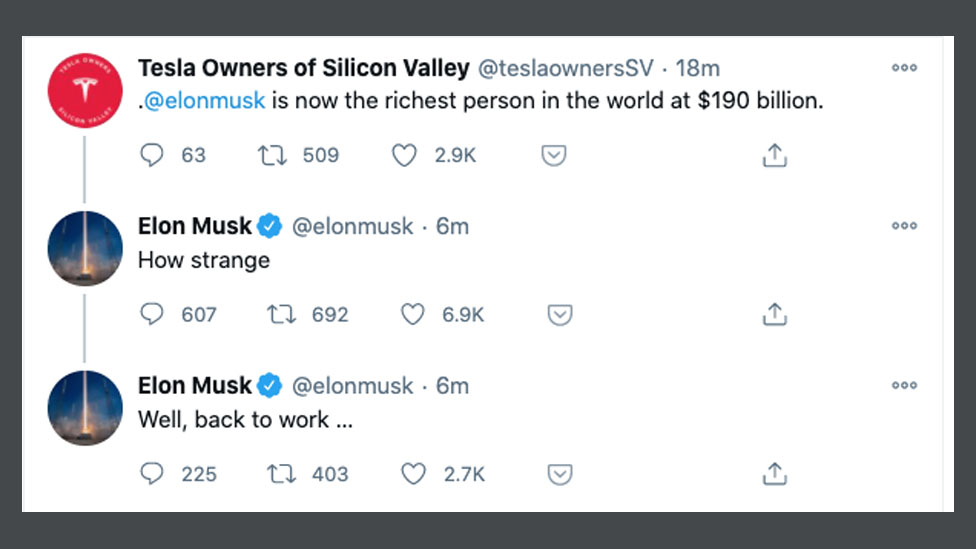 Musk's net worth is now $188.5 billion, $1.5 billion more than Jeff Bezos. As CEO of SpaceX, Musk is also a rival to Bezos, owner of Blue Origin LLC, in the private space race.
SOURCE: BLOOMBERG/BBC
France Sets To Change Sexual Consent To 15 Years
The French government has set up plans to change the age of sexual consent at 15 and make it easier to punish long-ago child sexual abuse.
The move has long been supported by victims of sexual abuse and child protection activists pushed for tougher laws and greater societal recognition of the problem of sexual abuse and this new development has been welcomed by them.
The Justice Ministry said systematic sexual abuse is "intolerable", adding that "the government is determined to act quickly to implement the changes that our society expects."
"An act of sexual penetration by an adult on a minor under 15 will be considered a rape," Justice Minister Eric Dupond-Moretti said Tuesday, Feb 9, on France-2 television.
Perpetrators could no longer cite consent to diminish the charges, he said, though exceptions would be made for teenagers having consensual sex.
The change still needs to be enshrined in law, but the announcement is a major step.
"It's very good that there is this revived debate, that there is an idea of a minimum age (of consent)," said Fatima Benomar, whose group Les Effrontees has pushed for stronger laws against sexual abusers. "This will make adults more responsible."
An effort to set France's first age of consent three years ago in the wake of the global #MeToo movement failed amid legal complications. But it has gained new momentum since accusations emerged last month of incestuous sexual abuse involving a prominent French political expert, Olivier Duhamel. That unleashed an online #MeTooInceste movement in France that led to tens of thousands of similar testimonies.
The Justice Ministry is in discussions with victims' groups about toughening punishment of incestuous abuse and extending or abolishing the statute of limitations on sexual violence against children, because it creates such deep trauma that it can take decades for victims to speak out. The law currently allows child victims to file complaints until they are 48.
The ministry also says it wants "to ensure that victims of the same perpetrator do not receive different legal treatment," which could broaden the scope to prosecute those accused of abusing multiple people over decades.